Here are some great resources and activities if you are looking for something fun and educational to do!
* Mo Willems invites YOU into his studio every day for his LUNCH DOODLE. Learners worldwide can draw, doodle and explore new ways of writing by visiting Mo's studio virtually once a day for the next few weeks. ! New episodes will be posted each weekday at 1:00 p.m. ET and then remain online to be streamed afterwards.  Click HERE to navigate to the Doodle page!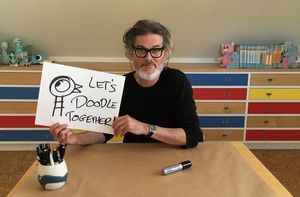 *Boys & Girls Clubs of America has a tool to keep you or your child learning actively! Click HERE to access MyFuture.net for programming!
*Scholastic is providing FREE learning resources HERE
*Watch live cams from the San Diego Zoo HERE
Roes Readers At Home!
Reading is a great way to keep busy and when you find a book you like, it is a lot of fun.
Instead of missing time to get your reading punch cards filled, let's keep going and get those reading minutes in – now you have lots of time!
You can read books you already have at home or try some of these suggestions for access to free books to read:
Websites:  Amazon, Goodreads, FreeChildrenStories.com, FreeKidsBooks.org, Magic Keys, Read.gov, Enchanted Book Promotions, BookBub, FunBrain, Kids World Fun
Apps:  Libby, Overdrive
As always, practice safe internet usage.  The Club is not affiliated with nor do we endorse any of these sites and make sure your parents know what you are doing, check to make sure the sites are still safe to use and make the initial set up.
Club member's who have started your punch cards - keep going. 
Club members who have yet to begin this is a great opportunity to get reading minutes completed.
Print off the sheet HERE to keep track of your reading progress. (If you do not have access to a printer, you can make your own form on a piece of paper.) Keep track of your sheets and turn them in to receive your stars when we can all get back to the Club.
Bonus Activity:  Click HERE for a Book Review sheet you can print off and complete for extra stars.
The Club At Home Friday March 20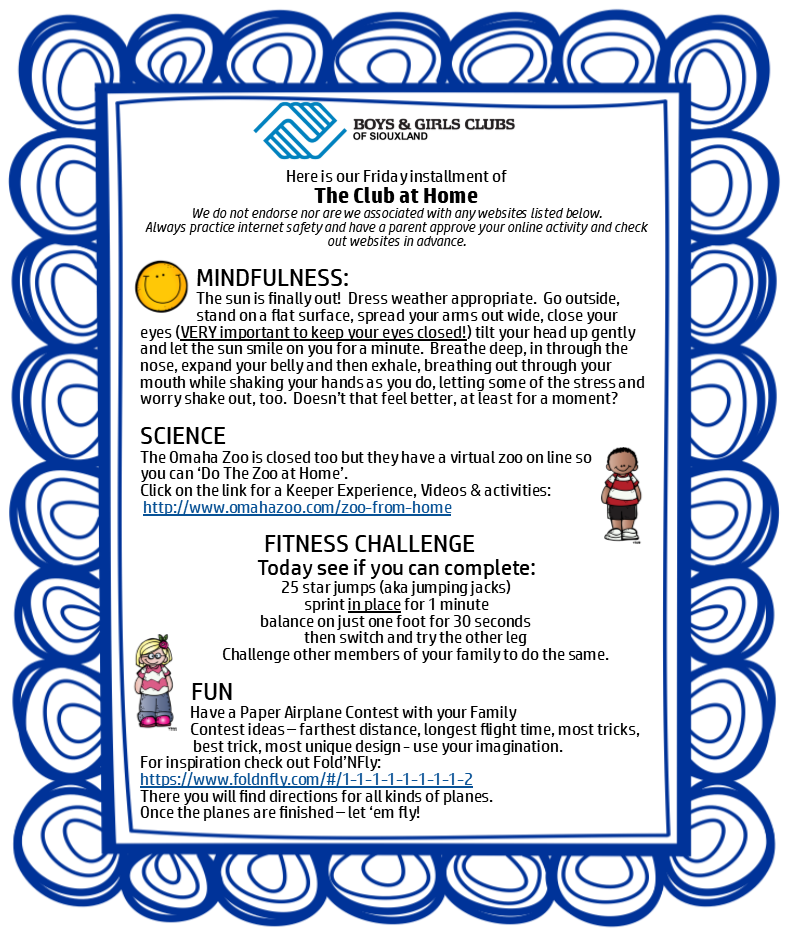 The Club At Home Monday March 23
Keep the Dance Party goin' - check out this YouTube video Dance Along Video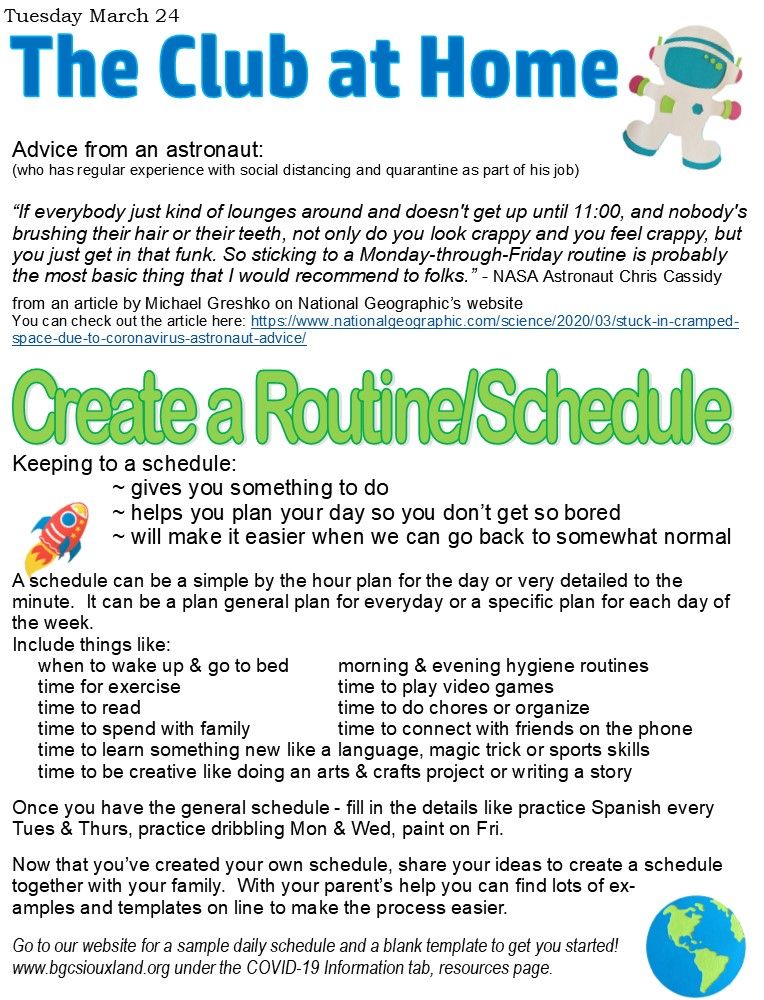 Click HERE for a sample daily schedule template.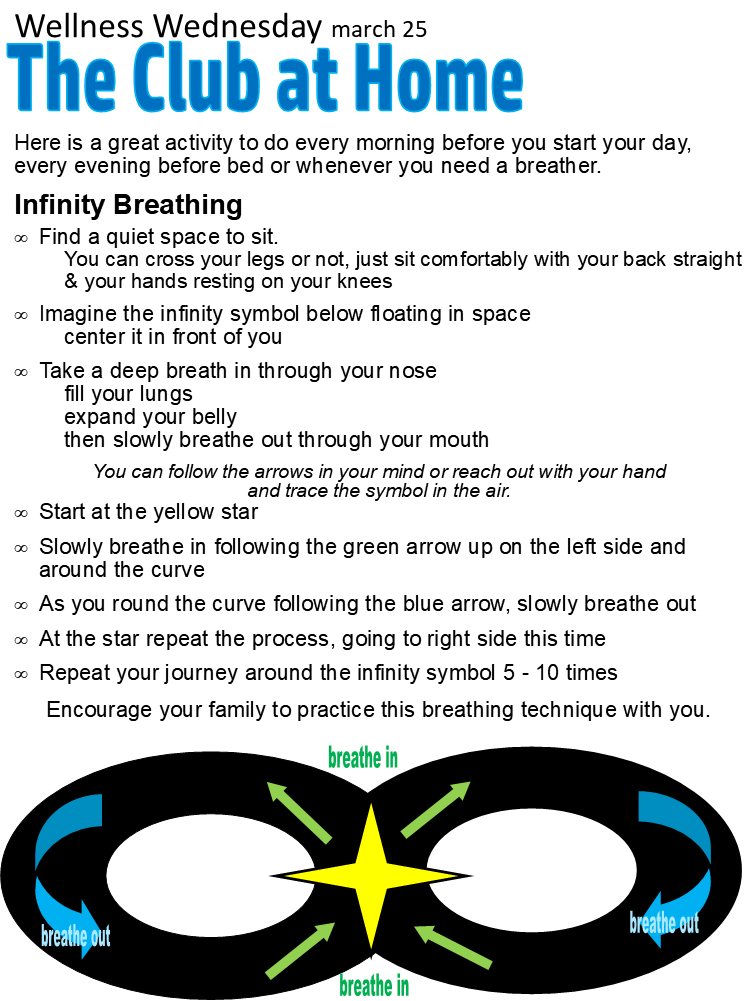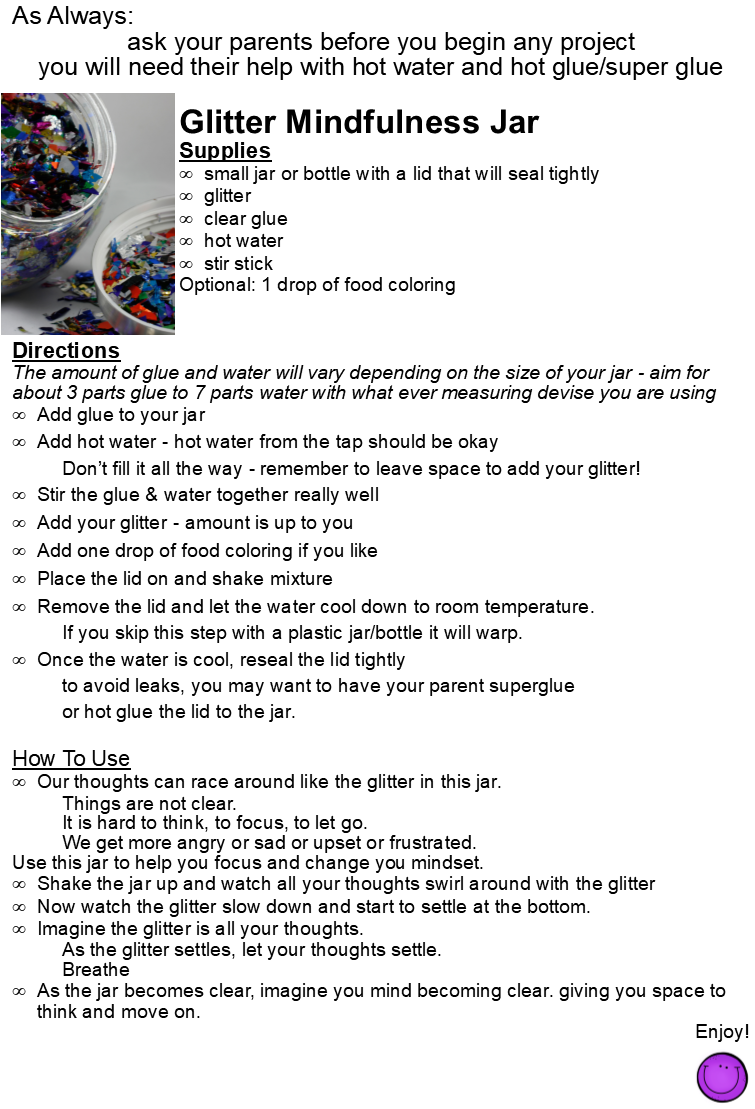 Science Thursday (because Science Friday was already taken)  march 26
The Club At Home
---
Get Active
---
give this kid lead Yoga Flow workout a try:
https://fit.sanfordhealth.org/resources/fit-workout-yoga-flow-video?utm_source=hs_email&utm_medium=email&utm_content=85304753&_hsenc=p2ANqtz-9_sT8chIkeI9HqPocQgL1JmSY2TvS9ejqU6dl1j8hTN8-TwV_UvrS3VBo7KrPHN1EHnUrIHs9th90KSf_hgy0ePSR8eOVAKucKsWpKTrZ8ABEQGU8&_hsmi=85304753
---
Get Your Science On
---
keeping with our "things in water bottles" activity theme give this a try:
Blobs In A Bottle!
Click here Blobs in a Bottle pdf  for printable instructions and be sure to click here
https://sciencebob.com/blobs-in-a-bottle-2/  for a fun video demonstration of Blobs In A Bottle!