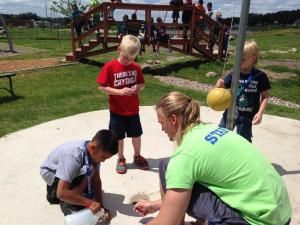 As a premier youth serving organization, we recognize that our success is due in large part to our talented and motivated staff. Employees of the Boys & Girls Clubs of Siouxland are integral to the organization as a whole and serve as role models to the youth we serve in our Clubs and citizens of the Siouxland area. As an organization we depend on the expertise of highly skilled, diverse and dedicated staff, and seek to hire only those individuals that exhibit these and other admirable  qualities to enhance the opportunities available to our Club Members.
Although each applicant will bring different credentials to the table, the Boys & Girls Clubs of Siouxland does require the minimum for employment consideration:
A strong desire to work with youth, ages 7-18, in supportive and active environments. Potential staff should have the energy and drive to work in both small and large groups.
Knowledge and expertise in program areas that align with our three key areas of success: Academic Success, Healthy Lifestyles, and Character & Leadership Development. This includes the ability to be actively engaged and execute creative programs that will retain and recruit Club Members.
A demonstrated record of integrity and professionalism. All employees must submit to pre-employment and ongoing criminal background investigations, driving record checks, and drug tests.
Current Opportunities Available:
Application Process:
If there is an opportunity for which you would like to be considered, please ensure that you meet all of the requirements and understand the roles and responsibilities of the position. Click on the Job Application to download and complete the document.
Some positions may require additional documents or information. All required documents must be submitted via mail or dropped off at the Boys & Girls Clubs of Siouxland, 823 Pearl St. Sioux City, Monday-Friday, between 9:00 am – 4:00 pm.
All applicants are carefully reviewed and interviews are scheduled for the most qualified candidates. Given the number of applications we receive, we are unable to communicate with each applicant about the status of any given position. Only candidates that are interviewed will be contacted about the hiring decision.
All applications received during the recruitment process will be kept on file for one year. You may apply for more than one position but will need to complete a separate application for each job opportunity. You may request that your information be removed from our files or reused in consideration of other positions.